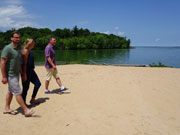 GERMANTOWN – A small community in rural Juneau County may not be the first place people think about when picking a spot for a vacation home getaway, but that's just where one cable show went.
Lakefront Bargain Hunt is a show on HGTV that helps people find waterfront homes on a budget. Lakefront Bargain Hunt was in Germantown, about 10 miles north of Mauston, finding a vacation home for Tyler and Dana Mueller, who live in the Chicago suburbs with their three children.
Brad Pavloski, along with his brother, has created lakefront developments on Castle Rock Lake in Juneau County and on Nepco Lake in Saratoga. Pavloski was the realtor who showed the Muellers multiple homes, including the three featured on the show.
The show contacted Pavloski in late 2015, he said. The show's producers told Pavloski they liked his subdivisions, he said, and gave him a number of restrictions for the show. The buyers had to be 40 years old or younger, and they had to make their purchase within a specified amount of time. Pavloski arranged for the producers to interview a couple of families and they selected the Muellers.